"When I was studying at PSB-IPT, my classmates and I didn't have laptop or the Internet," said Stanley Chen Chin Heng, who graduated in 1996 with a Diploma in Industrial Engineering at PSB Institute for Productivity Training (PSB-IPT), or what PSB Academy was known as in the past. "We made use of course notes and reference books recommended by our lecturers. It was important to conduct research on the learning modules for our projects, and enhance our knowledge and applications."
Stanley's previous employer, Apple Computer Inc, sponsored his education at PSB-IPT. "This was a great initiative to encourage us to develop our professional knowledge," recalled Stanley. He chose the Diploma in Industrial Engineering course because he knew that it would enrich his professional knowledge in his career and prepare him for future challenges.
He is now a Safety and Maintenance Manager in a lube-oil manufacturing plant, where he is in charge of production equipment maintenance, management of Environmental, Health and Safety (EHS) and facilities management programmes and liaising with the authorities such as Ministry of Manpower (MOM), National Environment Agency (NEA) and Singapore Civil Defence Force (SCDF) to ensure compliance to legal and customers' requirements. He attributed part of his success today to PSB-IPT, as it has instilled in him a thirst for knowledge, or what he called "the DNA of continuous learning". He has become more inquisitive to learn new things, which prepare him for the future, especially in the disruptive economy.
"It is important to keep enriching knowledge and expand our skill sets, as our working environment is constantly evolving towards the 4th Industrial Revolution," said Stanley, citing the fusion of advances in artificial intelligence (AI), the Internet of Things (loT), robotics and more. "We must be lifelong learners, always unlearning and relearning, so as to hone our professional skills."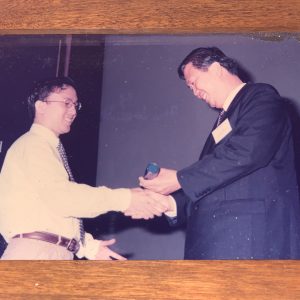 Stanley loved his studying experience at PSB-IPT, and he was particularly appreciative of his lecturers, who were all working professionals, for sharing practical solutions and best practices that he could implement in his workplace. He supported, "The course inspired me to pursue further studies and achieve my Honours degree and other professional qualifications. For instance, I became certified as a Project Management Professional (PMP), Workplace Safety & Health Officer, Fire Safety Manager and Data Analyst." In 2020, he obtained an Advanced Diploma in Machine Learning and Data Analytics from a tertiary learning organisation.
 The PSB-IPT Diploma in Industrial Engineering course's curriculum was relevant to the industry that Stanley is currently working in. Moreover, the modules in the curriculum have prepared him for the journey ahead as a Managerial Executive in various Multinational Corporations (MNCs). They have also empowered him to become an efficient and effective Quality, Environment, Health & Safety (QEHS) professional, with more than 14 years of working experience in various industries.
"Modules such as Quality Assurance, Facility Planning, Information Technology and Total Productive Maintenance have helped me implement an effective Integrated Management System in my organisation as a QEHS manager," recounted Stanley. "As a Maintenance Manager, what I learnt in the Total Productive Maintenance module taught me to implement a cost-effective Preventive Management programme for the equipment and improve the facilities management in the company." In another role as an Operations Manager of a Regional Distribution Centre, the knowledge on Facility Planning and Information Technology enabled him to plan and implement various successful and systematic operational processes and systems.
 Upon looking back, Stanley felt proud to be a graduate of PSB-IPT. "The school has empowered thousands of Singaporeans in the past decades and have prepared our workforce to remain relevant for economic developments and challenges," he reflected.