18 years after Tony Cher's O-Level, he embarked on his diploma studies in 1995 because he wanted to climb up the corporate ladder and be financially stable.
"Recommended by my friends, PSB Institute for Productivity Training (now known as PSB Academy) was the most cost-effective institute in Singapore to me," he said.
Currently, a Senior Business Development Manager at Excelpoint System, Tony's job scope involves developing customer base with new technology, forming a consortium to venture into Smart City projects in Vietnam. The topics covered in the sales and marketing management diploma had equipped him to take on various challenges that come with the job, such as understanding the marketplace and consumer behaviour.
It was not always the case before that. "Before my diploma, I was a marketing executive at an electronics company, and my knowledge of marketing was predominantly consumer marketing. I had little knowledge of the other aspects of marketing," he stated.
The diploma with the institute had not only helped him built a strong foundation in marketing, but it had also introduced him to topics such as industry marketing and international marketing, which helped him in his career development.
Reminiscing his school days, "Back then, I was excited and was eager to learn, however, the energy level did not match up after a long day at work. But I was always thankful for the exciting discussions with the lecturers who shared many industry experiences in class. Through the course, I have had the opportunity to expand my business network. I met two business associates during my course, and we would often have supper after classes and study together before exams. To date, I am still in contact with them."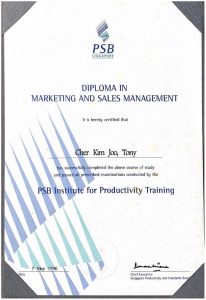 25 years after graduating from the institute, he now leads a team of R&D engineers in pioneering innovation projects to introduce new products for various market segments.
"Without the institute, I may not have been able to find my value and confidence, which drove my passion in marketing. The diploma had opened many doors of opportunities for me. The skills and knowledge were applicable to me at every stage of my career. I have since then worked overseas in China and the USA for 22 years. I have also expanded my job scope beyond marketing," he expressed.
Looking back, Tony felt fortunate to study at the institute in the early years and would undoubtedly attribute his success today to the institute.