BACK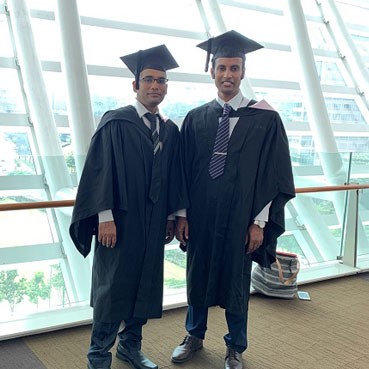 Liton & Symon
Class of 2019
Bachelor of Environmental and Occupational Health and Safety (Top-Up), The University Of Newcastle, Australia
School of Engineering and Technology
"Nothing can stop us from achieving our ULTIMATE dream." – Liton & Symon
---
Both of you have known each other for more than a decade since your diploma school days. What motivated you to take on a degree together with PSB Academy? What are your considering factors when choosing a school?
It was our dream to pursue higher studies abroad since we graduated with our engineering diploma in our home country in 2010. Both of us came to Singapore, started working in the same professional background and were continuously looking for opportunities to achieve our dream.
We were searching for a globally recognised and professional development degree, where we can achieve both academic and professional development in Singapore. And finally, we found The University of Newcastle, Australia through PSB Academy. When we chose PSB Academy, we had a few factors in mind. They were:
Quality of education
Campus environment
Reputation and ranking
Affordability
Convenience of location AND
Professional development of graduates
Was there any interesting incident that strengthened your friendship during your learning journey with PSB Academy?
As we took the same programme, we got to spend more time together, which strengthened our bond even more. Especially for the group/individual assignments, we had the opportunity to meet up more frequently, sharing our thoughts and ideas with each other. Our lecturers insisted that we formed the assignment groups with different people but both of us always remained in the same group. This was an interesting part of our learning journey, I would say.
What were the challenges you faced as a part-time student and how did you overcome it?
I believe that almost every part-time student faces the same difficulties we did since we had to attend lectures, do assignments and take exams after a tiring day at work. We had to rush for our classes since we worked in different parts of Singapore while our campus is located in the central area.
There were many other challenges like: no work/study/life balance during our class time; sometimes we had to stay awake till very late at night to meet assignment deadlines or to prepare for the exams. Our mother tongue isn't English so we faced some language barriers too. But the hardship, stress and fatigue weren't enough to stop us from achieving our ULTIMATE dream.
Is there any particular lecturer whom you are thankful for?
We would like to thank all our fantastic Environmental and Occupational Health and Safety (EOHS) lecturers, especially Dr Charles, CC Lee and Dr Kavitha.
Could you share with us briefly about your current role and career portfolio?
Symon:
I'm a Safety, Health, Environment and Quality (SHEQ) Professional, (WSHO) at CWT Integrated Pte Ltd. My role involves assisting, developing, implementing, and enforcing Safety, Health, Environment and Quality management systems.
I have been working since 2010 as a Health, Safety and Environment (HSE) professional in various industries (Marine and Logistics). I'm also a Registered Workplace Safety and Health Officer (WSHO) with Ministry of Manpower, Singapore and Professional Member in Singapore Institute of Safety Officers (SISO). Additionally, I'm a Communication Officer in the BEnvOHS Alumni Committee (2018 – 2020).
Liton:
I'm working as a Workplace Safety and Health Officer at Sembcorp Marine Pte Ltd, one of the biggest and renowned shipyards in the world. Joined in 2016, I take care of various repair, renovation and new building projects. I was also recently accredited as a Registered Workplace Safety and Health Officer by Ministry of Manpower, Singapore. I'm also a certified Noise Monitoring Officer and Safety Assessor (Hot Work Certification, Confined Space Certification and Work at Height Certification). I have many years of experience in implementation, monitoring and maintaining WSH Management System, Risk Management, Incident investigation and reporting, as well as Audit and Emergency Preparedness.
In what ways have your education with us added value to your personal development and professional opportunities?
Our education with PSB Academy has helped us with our personal and professional development in various ways, such as doing presentations, report writing, research methods, assignments, which helped us a lot in the real working world. We also received recognition as a professional EOHS personnel nationally and internationally.
Is there any quote that you live by or a quote that you would like to share with our current students?
Symon:
If you dream of becoming an EOHS Professional, with nationally and globally recognised qualifications, you are on the right path.
Liton:
Never let your goals be set by others. Choose your own direction and work hard for it.