BACK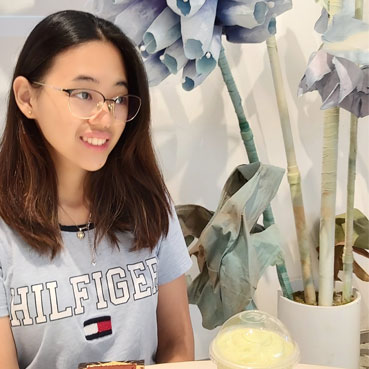 Pamela Perfecto
Class of 2021
Bachelor of Business, The University Of Newcastle, Australia
School of Business and Management
Pamela hails from The Philippines and is currently the President of the PSB Academy Music Club and an undergrad of Bachelor of Business (Leadership & Management and Marketing) with The University of Newcastle, Australia. She plays the guitar and is also a YouTuber. We're very proud of her achievements and appreciate her contributions to a bustling student life. Read her story below for more!
---
How has life been since you started school?
While pursuing my studies in PSB Academy, most of my courses encouraged us to think with a growth mindset and to think like entrepreneurs. This inspired me to start up my own YouTube Channel called The Art of Perfecting that celebrates positivity and encourages everyone to embrace self-development to enjoy the rewards of fulfillment.
In The Art of Perfecting, I share some of my personal life, some things I have learned in PSB Academy's Courses, and some parts of my journey as the President of PSB Academy's Music Club to help people go through their personal challenges and encourage them to keep on improving day-by-day.
By doing this, I hope I can create a positive impact in the complexion of social media content and create a community that supports each other with a growth mindset. Another thing I enjoy about creating video content is that I get to compile all my hardwork and achievements, so I can always go back and see how far I have gone!
What made you further your studies with PSB Academy?
While I was deciding on which college to pursue, I set personal goals that I wanted to achieve in my college life. These goals made me realize that I valued innovation, collaboration, passion, and determination.
The first time I set foot on PSB Academy's City campus, the unique interior design of the campus gave me a good feeling that I found what I was looking for. PSB Academy's partnership with University of Newcastle sealed the deal of my decision. University of Newcastle is in Australia's top 10 universities.
As I got to learn more that UON's high academic standards and values were aligned with my values, it just became clear that this was the school that would help me reach my goals.
What made you embark on this journey? 
I've always been fascinated with leaders that have the ability to improve on people's lives and make differences that are beneficial to society. This passion for making a difference and improvement led me to University of Newcastle's Bachelor's Degree in Business Leadership and Management & Marketing.
My courses in University of Newcastle have taught me that being a person of influence is a challenging and rewarding journey that requires a lot of preparation, planning, and perseverance. I eagerly attended my lectures knowing that every lesson meant that I was one step closer to my vision. I supplemented these lessons by attending talks and seminars provided by PSB Academy's Career Services. These talks gave important tips in interviews, resume writing, and more.
How does this programme help you to make a difference in your community?
The important piece that completes my college life is being president of PSB Academy Music Club, where I learned to apply problem solving skills, talent development, events management, and many more skills in the organization. It was a challenging responsibility that prepares me to become an established leader.
Pam with the PSB Academy Music Club Committee Members of '19/'20
As a Filipino student living in Singapore and studying in an Australian University, the opportunities to practice my leadership, management, and marketing skills have expanded. This expanded horizon inspires me to give back to my nation, and also to lend my abilities and skills to the whole world.
How was your personal development and professional opportunities? 
Apart from attending my lectures, I would go to various events and activities organized by PSB STA and Career Affairs, such as, career talks, team bonding events, club activities, and more.
These events supplemented everything that I learned from my degree in Leadership and Management & Marketing and gave me opportunities to practice my knowledge before entering the workforce.
While the activities gave color to my college years. I was able to learn new skills and make new friends that helped me become a more well-rounded person.
How approachable and helpful were our educators?
When I started my degree at the University of Newcastle, I was grateful that lecturers were willing to give constructive feedback, answer my enquiries, and asked for each student's participation in class.
I believe that having a two – way communication between students and lecturers is essential to fully-understanding the modules. These interactions helped me gain clarity in subject matters, helped me practice communicating to my superiors, helped me improve on the aspects that I need to improve on. I slowly realized that I was building a bigger perspective of the world around me.
What was most memorable about your time at PSB Academy?
PSB Academy's student life gave me a lot of fond memories that I will never forget. If I were to choose, the most memorable event was Student Leadership Camp 2019. This camp opened my eyes to the true meaning of leadership, which was to give all your passion and dedication in serving others and keep on improving the organization.
I had the opportunity to engage in team bonding activities and games that showcased different attributes of being a leader, such as being an inspirer, an enabler, an achiever, and a role model. It was inspiring to learn from fellow aspiring leaders and to hear their experiences.
Pam at our Supertalks Session #1: Conversation with your Dream 2020 with Jennifer Lim
At the end of the camp, I went home with more confidence and conviction that I was fully-equipped to lead PSB Academy's Music Club, and that I have the ability to inspire change and development in the world around me.
---
Find out more about Pam's course here.