BACK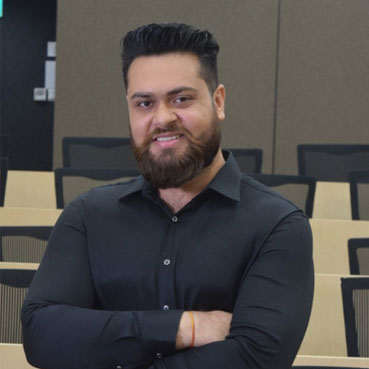 Saaransh Raj Khera
Class of 2018
Master of Business Administration, The University Of Newcastle, Australia
School of Postgraduate Studies
"Know what you want. A Bachelor or Master's course is not something you enter into lightly. But if that is something you are certain you want to do, I cannot think of a better place to pursue it than through PSB Academy."  
---
Pursuit of Education
Even before he graduated with his Bachelor's degree, Saaransh Raj knew that he wanted to work in a management capacity. However, feeling that he would need relevant industrial experience to be effective as a manager, Saaransh chose to enter the workforce immediately after graduation before taking the next step in his career. Having worked for seven years as a software engineer for a few companies in India, and feeling ready to make the next big push in his career, Saaransh enrolled himself into the Full-Time Master of Business Administration programme offered by The University Of Newcastle, Australia through PSB Academy in Singapore.  
Challenges
However, coming into the course after seven years away from school life was not a seamless transition for Saaransh. He keenly felt the loss of his monthly paycheck and the trappings that come with that in his first few months. Also, having only studied and worked in India his entire life, the multi-national make-up of the student body in his course posed challenges to him too. There were a few misunderstandings with course mates initially due to different expectations of work methods, timings and products as they had come from varied cultural backgrounds.  
The Silver Lining
However, as he went along, he realised what seemed like challenges in the beginning, was actually a treasure trough of knowledge and experiences that would serve him well in his future career. While the loss of a paycheck was not pleasant, the breadth of knowledge offered by the amazing professors leading the course was beyond anything he could have imagined. Furthermore, PSB Academy even selected him for an industrial visit to Google Singapore which was an opportunity unlike anything he had before. "Yes, the loss of a paycheck and comfort is not pleasant for anyone. However, the different forms of learning you gain through this course more than makes up for that loss in income.
Moreover, the knowledge and qualification I gained here will allow me to cover the year of lost income in the future," said Saaransh. On his initial struggles with the international student population, Saaransh said "Students came from all over the world and each of them with their own ideas of how to approach their work and assignments. Initially I had some problems getting group assignments and presentations done due to this. However, as I got to know them and understand their perspectives, things became much easier. I have even managed to adopt some of their practices as my own. The ability to understand various perspectives from all over the world has also helped me in my current role."  
Beyond Academic Excellence
This is not to say that Saaransh was chained to his desk just poring over course materials in his one year in PSB Academy. "The student life at PSB Academy is very vibrant. I still managed to pursue my other interests in my year in the school. Being part of the basketball team allowed me to keep in shape and I was also a member of the South Asian Students Association. We organized quite a few events there including parties for Holi and Diwali. I'm very appreciative that PSB Academy encourages and enables you to develop yourself beyond the classroom as well." 
Life After Graduation
Since graduating in August 2018, Saaransh has secured employment as a Technical Program Manager with Cartrack Asia Pacific, a multinational company based in Singapore.  
Saaransh is a Future Maker – you can be one too.