The University Of Newcastle, Australia
Bachelor of Electrical and Electronic Engineering (Honours)
Introduction
Master the study of mathematics, science, technology and the construct of electrical products and services with an Electrical Engineering degree. You will get to work in exciting fields such as robotics and renewable energy!
Electrical Engineering is a wide-ranging discipline as it includes the study of control and automation, power generation and distribution, telecommunication equipment, signal processing, and analogue and digital electronics. As an electrical engineer, you will combine mathematics, science, technology and problem-solving skills to design, construct and maintain electrical products and services.
Industrial Placements
Industrial placements arm students with valuable hands-on training in real-world situations, granting them the opportunity to put classroom theory into practice. This is a vital tool for graduates as they enter the competitive engineering workforce, potentially giving them an edge in gaining employment and  adapting to this fast-paced industry.
The UON Engineering degrees in Singapore prepares students with a compulsory 12 weeks of industrial placement in addition to academic studies. Students are allowed to source and negotiate their own work experience, subject to approval by the Faculty Board. The University provides students with the necessary support during the placement, while PSB Academy's Student Affairs team offers additional career guidance to ensure our students enjoy a seamless experience.
Some of the companies that our students have had their industrial placement include:
ST Kinetics
PUB Singapore
Meinhardt (Singapore) Pte Ltd
Robert Bosch (SEA) Pte Ltd
Proctor & Gamble Europe SA Singapore Branch
Land Transport Authority
Tetra Pak Pte Ltd
Industrial placement is not guaranteed for international students and subject to approval of relevant passes by the Ministry of Manpower (MOM).
Course Highlights
Asian Expert Perspectives
Taught by University of Newcastle approved lecturers, with doctorates from reputable universities in Singapore and abroad
Purpose-built STEM Campus
Immerse yourself in a STEM-focused environment equipped with facilities such as an engineering lab, a fluid mechanics lab, a dedicated engineering project room and multiple computer labs running AutoCAD, MATLAB and other specialised software.
Industry Immersion
Enjoy opportunities for professional events, seminars and workshops when you join as a student member of The Institution of Engineers, Singapore (IES) and The Institution of Engineering and Technology (IET)
Programme Consultants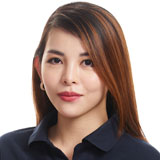 Ivone Sutoyo
0900 - 1800 (Monday - Friday) - STEM Campus