Kang Rui Jie, a former national athlete in Taekwando, has been making waves in the Singapore sports scene yet again. This time, he represented PSB Academy in the NTU Taekwando Open Championship 2023, emerging as the champion among 10 other institutes of higher learning like NUS, SIT, SUSS, SMU, and many others.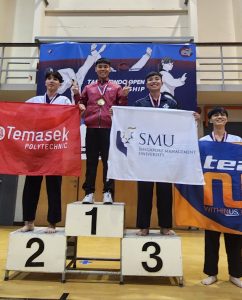 But that's not all there is to this promising 28 year-old high achiever. Rui Jie is also an undergraduate pursuing a Bachelor's degree in Sports Science with Edinburgh Napier University, a degree programme offered through PSB Academy. Rui Jie found that the hybrid learning and flexible course arrangements were perfect for him, a newlywed juggling studies, his passion for Taekwando, and a new family in the making.
When asked why lifelong education is important to him, even though he is an established athlete in the Taekwando scene, Rui Jie said, "As an athlete, you never stop learning. There's always something new to learn, a new technique to master, or a new strategy to implement. And with the ever evolving nature of sports, it's important to keep up with the latest developments and trends. Education also helps me to be a better coach, both in terms of technical knowledge and soft skills like communication and leadership."
On top of that, Rui Jie is also a coach for the team from Temasek Polytechnic and plans to further his coaching career and embark on a professional sports career in the Singapore sports scene. He hopes to shape aspiring athletes physically, mentally, emotionally, and psychologically, and has been actively training regularly and staying active in other aspects of the global Taekwando community.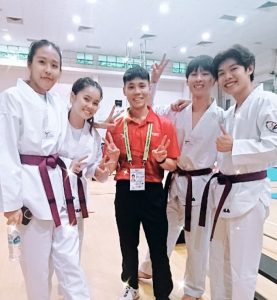 With 19 years of experience in the sport of Taekwando and seven years of competing competitively, Rui Jie's passion and life lie in this sport. He has achieved many milestones in his career, including being the Gold Medalist in the 2022 National Taekwondo Poomsae Championships, Silver Medalist in the 2016 Gyeongju Korea Open (Korean Category), and winning two Silver Medals in the 2016 Taiwan Open. He was also the Gold and Bronze Medalist in the 2015 SEA Games and Gold and Bronze Medalist in the 2015 US Open. These are just a few of the many achievements that Rui Jie has accomplished in his illustrious career.
Rui Jie's hard work and dedication to Taekwando have not gone unnoticed, and he has received many awards throughout his career. In 2016, he was awarded the SNOC Meritorious Award, and in the same year, he received the Temasek Polytechnic CCA Gold Award. In 2015, he was named the Temasek Polytechnic Sportsperson of The Year. He has also received Peter Lim Scholarships in 2016, 2015, and 2014, and was named the Ngee Ann Secondary Sportsperson of The Year in 2013. In 2011, he was named the SSSC Overall Best Sports Boy and the SSSC Best Sports Boy for Taekwondo.
Rui Jie's achievements are not just a testament to his skills as an athlete but also to his unwavering commitment to his sport and his desire to inspire the next generation of athletes. His passion for Taekwando and lifelong learning is truly admirable and serves as an inspiration to many. With his dedication and hard work, there is no doubt that Rui Jie will continue to make waves in the Singapore sports scene and beyond.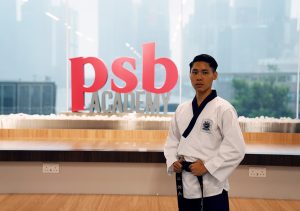 Expressing his gratitude to the people who had made footprints in his life, Rui Jie said, "My success is nothing without the support and encouragement from my beloved family, coaches, and all those who have supported me throughout my journey, and that includes PSB Academy, for providing me with the chance to reignite his passion for Taekwondo."
Rui Jie admitted that all work and no play makes Jack a dull boy, and as a sportsman, his emphasis on the importance of having a balance of passion, play, career and personal life is what we need to hear more, especially in a fast-paced life in Singapore where one can easily be sucked in chasing stars in the pursuit of success.
As Harvey Mackay would say, "Find something you love to do, and you'll never have to work a day in your life."