Getting relevant experience is also as important as the paper qualification and exam results. With more importance placed on experiential learning, this begs the question of how can you gain industry exposure while studying?
In this blog, we have Tan Xuan Wei, Nur Amalina Binte Mohamed Amidun and Byun Jimin, La Trobe University Alumni, to share their experiences as Laboratory Technicians Intern. They were part of PSB Academy School of Health and Life Sciences voluntary laboratory experience for Life Sciences.
Why did you decide to volunteer for the Laboratory Technicians Intern?
Xuan Wei: During my final semester in university, I had some time and wanted to see if there were any opportunities to gain experience as a laboratory technician before graduation. Additionally, it felt like it would be an interesting encounter to be on the other side of the table in the laboratory.
Nur Amalina: Coming from an A-level background, I had no exposure to advanced lab equipment such as PCR, Centrifuges, Plate readers etc. Therefore, when Dr Agnes introduced me to this role, I thought it was a perfect opportunity to gain exposure and experience the working world and at the same time hone my laboratory skills.
Jimin: Lab session was one of the things I always looked forward to every week, which played a significant role in keeping me passionate about my major. While other university students get to spend their 3-month summer break working as an intern, I was always in the middle of a new trimester, thinking that I had lesser opportunities and experience than my peers from other schools. When I came across this opportunity to gain industry exposure as a lab technician intern while studying, there was no reason for me to hesitate but to grab the chance to volunteer for this role.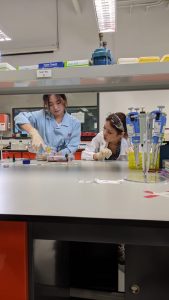 What do you have to do daily as a Lab Technician Intern?
Xuan Wei: I participated in the entire lab procedure, from pre-experimental prep to assisting lab sessions to post-experiment work. Before each lab session, I would prepare various reagents and electrophoresis gels. I also had to do a dry run of the experiment to gauge if any tweaking of steps was needed.
I would demonstrate specific procedures during class while guiding the students in their experiments. At times, I would also answer questions from the students.
At the end of the session, I will guide students to dispose of the waste properly and conduct some housekeeping in the lab. For some experiments, I would also help students store their experimental work or conduct procedures until the next class.
Nur Amalina: Besides preparing reagents and materials before each lab session to assisting the actual lab class while ensuring safety, I also help to answer fellow coursemates' questions, use plate reader, crack Sodium Dodecyl Sulfate–Polyacrylamide Gel Electrophoresis (SDS-PAGE) etc.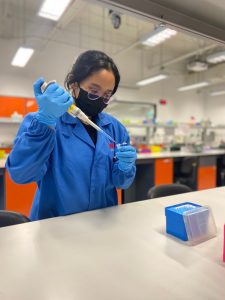 How did the full-time Lab Technicians render guidance to you?
Xuan Wei: The full-time lab technicians would brief me through the experimental work and give constructive suggestions and advice whenever I had questions. They would also run me through the general schedule of classes so that I would be able to prepare and think about what I was supposed to do. While they were explaining, I would also observe how they work so that it would help me to answer questions from the students.
Jimin: The lab technicians were friendly and approachable, guiding me through the procedures and details around the lab. They brought me around different areas of the lab and introduced me to things that I would not be able to experience if I had just attended a lesson as a student. Moreover, the lab techs taught me useful, practical skills, which allowed me to revise what I had learned during my lesson.
What were some of the practical skills you have gained from this volunteer experience?
Jimin: This volunteer experience allowed me to develop and apply technical skills in performing gel electrophoresis, PCR (polymerase chain reaction), molecular cloning, DNA/protein extraction, microscopic analysis, and aseptic techniques.
Additionally, I have gained practical skills in being detail-oriented, minimising mistakes and being observant to ensure high quality of work.
Nur Amalina: I picked up practical laboratory skills such as western transfer, setting up SDS-PAGE gel, agarose gel, microplate reader, aseptic techniques, and growing bacteria. On top of that, I've also honed other soft skills such as communication, problem-solving, time management, etc.
Has this experience helped you in any way in your current job?
Xuan Wei: Absolutely. I am presently working as a laboratory officer in a government body and the experience I acquired as a Lab Technician Intern at PSB Academy has helped me anticipate and adapt to changes daily quickly.
In contrast to what many may perceive that lab work is very routine, and nothing would be out of the ordinary, the problems we encounter every time varies and requires us to think on the spot to resolve it.
Jimin: While I am not working in a lab currently, the volunteer experience has exposed me to opportunities that aided my career. Currently, I am working as a Medical Information Specialist at a Clinical Research company. My role involves providing technical and medical information to patients and healthcare professionals about pharmaceutical or device products. I am also involved in identifying, recording, and triaging adverse events and product quality complaints, ensuring that these drugs are appropriately prescribed and administered to help deliver life-changing therapies.
I am continuously exploring this industry with a growing passion for pharmaceutical research and development. Although my current job may just be the beginning of my journey, I plan to broaden my perspective and expose myself to various roles and opportunities within this industry to help improve people's lives. ­­­­­­­­­­­­­­
---
If you are keen to embark on a life science career and don't know where to start, head over to our life science discipline page to find out how our courses cater to different levels of learning needs.