A New Normal in teaching practice. Seamless integration of technology in formal lessons. Collaborative, conducive learning environments. Years before the onset of the Covid-19 pandemic, PSB Academy's academic and infocomm technology teams came together to rethink the future of higher education. A multi-year vision was birthed to strengthen the use of technology in our classrooms. The development of our award-winning City Campus and industry-centric STEM Campus are testaments to our early vision.
As part of our master teaching and learning (T&L) blueprint, plans were initiated in the middle of 2019 to upgrade our virtual learning environment. By February 2020, the Academy had transitioned to the use of Blackboard to supplement lesson delivery. Two months later, the Singapore government announced a nationwide partial lockdown to contain the spread of the novel coronavirus. Across the world, one country after another, classrooms went dark and students lit up their computers or mobile devices. Home-based virtual learning – once inconceivable – was about to become mainstream.
In 2015, two years after the completion of his PhD in Biological Sciences, Dr. Seah Seng Wee was blissfully oblivious to the maelstrom that would one day rock education and disrupt learning worldwide. PSB Academy had just announced a partnership with La Trobe University to make life science education more accessible to students. Seng Wee joined the academic team in January 2016, bringing a welcome expertise in biochemistry. Beyond nurturing our life science students, Seng Wee oversees the La Trobe University life science courses at the Academy, including instruction design and curriculum revamp to ensure successful student outcomes. Our life science students are also supported by the broader teaching team through mentoring and academic consultations.
Seng Wee delights in seeing his students develop holistically and contribute meaningfully in society. To that end, Seng Wee regularly reaches out to industry players to collaborate with the Academy, including Quest Laboratories and Parkway Laboratory Services. Moreover, PSB Academy's career services and engagement team jointly organised our tent-pole Biopharma Industry Day with JTC and 16 companies from the Biopharmaceutical Manufacturers' Advisory Council (BMAC), which offered a behind-the-scenes look at a fast-growing sector where science, technology and human expertise are creating a better tomorrow. These activities and the La Trobe University–PSB Academy Graduation Ceremony are important milestones as our life science learners advance in their life journeys.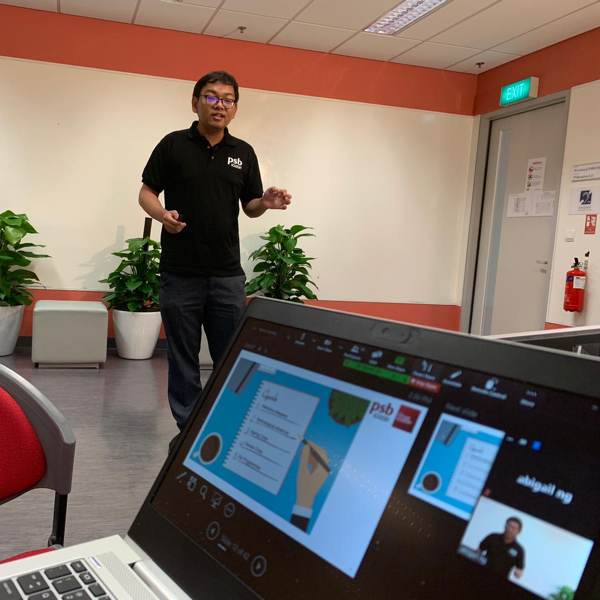 In 2020, as with many other institutions of learning worldwide, PSB Academy faced the toughest storm yet in our 50-year history. Drawing from our heritage as a productivity champion in the Singapore workforce, Seng Wee and other members of the Teaching and Learning Committee steered our teaching force in ramping up digital literacy skills, fluidly teaching in both virtual and physical learning environments, and perhaps most importantly for our life science students, in redesigning the lab experience for the digital age. Seng Wee is thankful for the strong support from La Trobe University and their subject coordinators.
An educator at heart, Seng Wee enjoys reading academic articles and science magazines to understand the latest research trends and directions, and relate all these back to our students' learning journey. These help him to visualise the upcoming trends and skillsets that he can contribute to La Trobe University – where he is a Visiting Fellow – in re-designing syllabi for future-ready relevance.
For more information, check out Seng Wee's biography: