Cross-functional teams. Digital acceleration. Lifelong learning. Companies across Singapore are exploring ways to upgrade their talent pool to navigate uncertainties and opportunities for growth in the constantly evolving economy. An HR business partner with a passion for learning and development, Jessica Huang has often thought of what it would be like to be a trainer. In 2020, as economies around the world submerged into pandemic-induced chaos, Jessica decided to take the plunge and enter the frontlines alongside PSB Academy's dedicated team of lecturers.
Armed with a Workforce Skills Qualifications (WSQ) Advanced Certificate in Training and Assessment from the Institute for Adult Learning Singapore, Jessica boasts unique skills in interpreting Singapore's WSQ ecosystem and its competency standards, so that working professionals looking to upgrade themselves in today's technology age can focus on developing complementary competencies for their work. She also enjoys exchanging ideas with HR practitioners across diverse industries during networking sessions.
Mentor. Role model. Educator. Jessica considers herself blessed to walk the talk as an associate lecturer, as she parlays her WSQ adult educator certification into helping our learning community understand companies' full spectrum of HR needs, from employee benefits to talent development. Being a full-time HR business partner, she juggles her roles well to ensure that she fulfils her job commitment while providing support to our students to help them go beyond textbook knowledge and acquire a deeper perspective.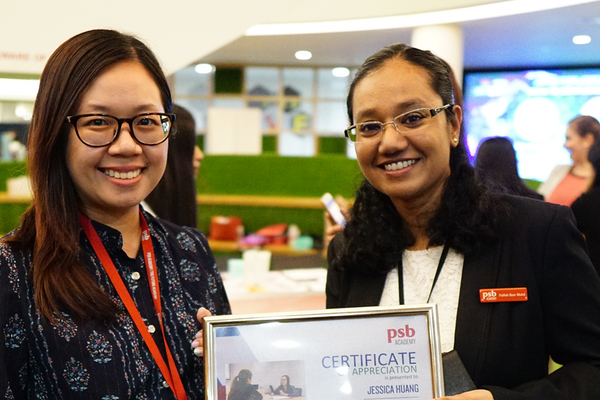 With the introduction of home-based learning and other public health measures, our learning community often have to grapple with work and family disruptions to their learning schedules. Jessica encourages a sense of camaraderie in her class – by having students support each other in understanding concepts – and reaches out to those who may have missed out on class communications. This helps our learners remain connected and engaged with us despite the challenges of remote learning.
Jessica volunteers her time as a career guide with Young NTUC, to guide young graduates in planning the start of their careers.
For more information, check out Jessica's biography: