With information about any tertiary education institution in Singapore just a click away on the internet, you may wonder why you should even bother to go to an actual open house. Well, what better way to find out if your school is sus or slay than having an in-person vibe check yourself?
Taking place on 4 February 2023, PSB Academy's first open house in two years is jam-packed with rad activities offering a holistic view of the institution's courses and facilities. Whether you have a few schools in mind or are keeping your options open, here's why you will absolutely not want to miss PSB Academy's Open House 2023:
1. Programme Talks and Course Advisory
One of the most daunting parts of starting life in a new school is the uncertainty of what to expect. Attending PSB Academy's open house can take the stress off your plate. Whether you intend to pursue a diploma or degree, you can get all your queries about courses and in-demand jobs answered by lecturers at PSB Academy's live talks. For more course-related questions, our friendly programme consultants are also always happy to help. If you need an objective take, there are plenty of opportunities to interact with PSB Academy's current students during the open house and listen to their honest experiences.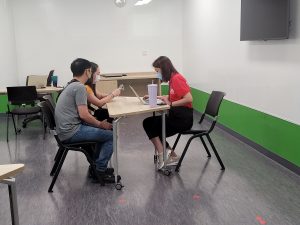 2. Immersive Programmes and Workshops
Nonetheless, the best way to determine if a school and chosen course uniquely suits you is to experience an actual class. At PSB Academy, this is made possible with our two-day Immersion Programme on 3 and 4 February. O-level and ITE graduates will be able to get a good glimpse into the following courses offered at PSB Academy through workshops under these disciplines:
Digital Marketing:

Fascinated with stunning websites and have always wanted to know how to create one? Through the Designing Effective Websites workshop, you will gain good exposure to the makings of a good website that drives traffic and conversions.

Engineering:
IT:

Do you live and breathe digital? With the Data Analytics through IoT workshop, you will get acquainted with the basics of the internet of things and artificial intelligence and see how they are applied in business.

Life Sciences:

If lab procedures in medical and crime dramas have ever sparked your interest, understanding your blood type workshop will be up your alley. In this session, you will learn the A to Zs of how to differentiate different blood types through testing.

Media and Comms:

Enjoy creating content? Learn how to take your work to the next level with the Humanising Your Content workshop, which teaches you the tools and techniques for producing an engaging podcast.

Sports Sciences:

Are you a sports enthusiast? If so, go for The Athlete Heart Rate workshop, which introduces you to exercises that strengthen an athlete's heart muscle and boost sports performance.
3. Explore PSB Academy's Beautiful Campus
Certainly, your tertiary education experience is not just about what goes on in lecture halls. You have to love the environment too! Exploring PSB Academy during the open house will give you an insider view of our vibrant campus, enabling you to envision your life in the school. If science, technology, engineering, and maths (STEM) courses are among your considerations, you will be thrilled by the chance to visit our STEM Wing's modern labs where extensive industry-approved equipment is housed.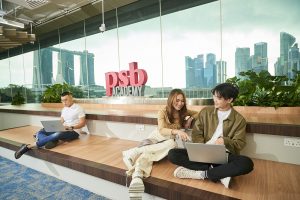 Experience PSB Academy Up Close at Our Open House
Mapping out your tertiary education pathway can be tricky, but with the array of information you will get at PSB Academy's open house at our Singapore campus will bring clarity to your decision-making. As a bonus, you can get an exclusive chance to win an Airpod Pro when you try your hands at the claw machine at our open house event. If you apply for a course on 4 February 2023, you can even participate in an extra lucky draw and stand a chance to walk away with the latest iPhone 14 Pro, MacBook Pro or iPad Air*!
Made up your mind to kickstart your tertiary education at PSB Academy? Make sure to sign up between 14 November 2022 and 4 February 2023 to benefit from our course fee rebates of up to S$11,000*. Register for Open House 2023 today!
*Terms & Conditions apply