BACK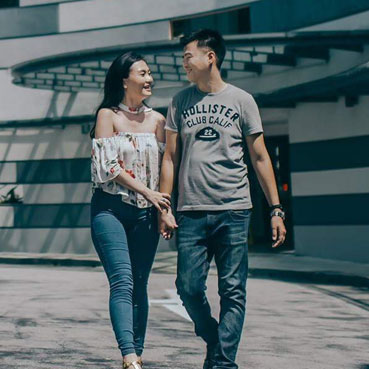 Aung Kaung Myat & Thiri Swe
Class of 2010
Bachelor of Business, The University Of Newcastle, Australia
School of Business and Management
They say some of the best things in life happen when you least expect them. Something exciting was about to start as Thiri stepped into the Fresher's Welcome organised by the Myanmar Student Association at PSB Academy. Through the night, Thiri mingled with amicable peers, realising that the idea of studying abroad wasn't going to be so daunting after all. It was that night, that she first saw him – Aung. He carried a sweet smile, as he made his way around the tables, making sure everyone was having a good time.
The newfound friendship between the two developed as the school semester started to roll in, with Thiri starting her degree in Management and Marketing from the University of Newcastle, while Aung, sought to complete his degree in Science (Business Administration) from California State Long Beach University. Apart from exchanging greetings in the hallways, the only avenue for interaction was Myanmar Student Association.
Aung, an active committee member of the club, was always involved in the planning and execution of various events, in which Thiri began to volunteer in. Before long, the two started to make memories as a couple who found love in PSB Academy: hanging out at the basketball court, eating waffles at the Cafeteria, waiting outside each other's classrooms at Block B, and even winning Student Appreciation Awards.
After Aung's graduation in 2012, and Thiri's in 2013, the couple returned to Myanmar but decided to make their way back to where it all began in early 2017, after being blessed for marriage by their loved ones. They chose to return to PSB Academy's Delta Campus for their pre-wedding photo shoot. When asked why the couple shared that PSB Academy played an integral part of their love story and that they wished to capture every nook and corner of the campus that was special to them.
Today, Thiri and Aung, are both co-directors of Weint Sein Jewellery, a heritage brand since 1958, catering to the mature crowd in suburban areas of Myanmar. Combining their expertise, Thiri and Aung leveraged on the experiences from their projects back at PSB Academy, to create a new strategic direction for the brand.
Aiming to reposition the brand so that it can cater to all generations, and expand the company's presence into Yangon, the couple implemented new channels of advertising such as celebrity endorsements, and event sponsorships. Taking the world by surprise, the power couple has overcome the odds together and will continue to do so, for years to come.