BACK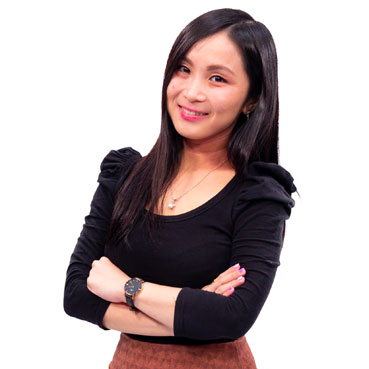 Evon Yin
Class of 2020
Master of Business Administration, The University Of Newcastle, Australia
School of Postgraduate Studies
Hailing from Malaysia, Evon Yin is a strong believer in lifelong learning. Before coming to Singapore to pursue an MBA, she studied at the Multimedia University in Melaka. Her ambition is to become a business consultant in the future.
She came here to further her studies because she wants to upgrade herself, know more about new trends and get inspiration in order to stay relevant in the competitive business world. During the application process, the PSB Academy team's relentless efforts made to liaise with the University and students, ensuring a seamless application process, led Evon to choose an MBA at PSB Academy.
The lecturers were encouraging and supportive, they cared about students' feedback and provided consultation whenever she needed it. She also found the fellow students here friendly and helpful, which enabled her to cope with her work, studies, family and personal life.
Evon credited the MBA programme for helping her develop better skills in decision making, analysis, innovation and business planning, which she can apply in work and real life. She believes that these skills can also help her make a greater contribution to society.
"I feel that flexibility is the most useful skill," she said. "When a person is flexible, he or she can easily adapt to any scenario regardless of whatever happens. It is very important to be flexible in any scenario, so that we can be rational during different scenarios, and handle any problem or challenge that comes to us."
In terms of personal development, the MBA programme has trained Evon to build her social skills and handle social relationships better, which might otherwise be difficult to practise in the workplace. In terms of professional opportunities, the Master's degree she has attained is widely recognised globally, as it is accepted by many SMEs and multinational companies.
In terms of the support she received at PSB Academy, she said, "All the lecturers and tutors are very kind, helpful and approachable. They are very professional, and they provide helpful guidance to all the students in getting good results."
She added, "My favourite lecturer is Dr Ananda Wickramasinghe. He is very experienced in designing learning models. He knows how to teach us effectively and gives us freedom to do our projects creatively. He is the one who taught me to be flexible in any condition. Dr Venkat Yanamandram and Dr Martin O'Brien have taught me on conducting proper research and building up my analytical skills. I also learnt a lot from Dr Shahriar Akter, such as how to build mobile apps and websites. He also encouraged us to come up with new and innovative ideas for our business plans in our projects."
One particularly unforgettable experience Evon had in the programme is when she was preparing for a presentation. She wanted to make it a little special and memorable for the audience, so she tested the market and gathered feedback before the actual day of presentation. After receiving feedback from her classmates, she decided to inject fun by including a game to bring across the message that "team effectiveness could be predicted". On the day of her presentation, her audience enjoyed the game, and received immediate positive feedback. She also received feedback from her mentor and classmates for personal improvement, such as focusing more on topics and giving stricter game rules.
"The truthful and valuable feedback is very important to me, as it creates self-awareness and reflection on my performance," she recounted. "PSB Academy always gives me the best advice and support when I need them. I feel like I am part of the family before, during and even after I graduated from the school."
Having completed her MBA, Evon is currently working as a Sales Representative in Japanese multinational consumer electronics corporation. "My life has become more meaningful, and my continuous learning makes me feel good, confident and opportunities to explore further career advancement," she said. "Meanwhile, I am also planning to start my own business as a consultant to help people in their career growth, personal growth and business growth. I think it will be very meaningful to practice what I have learned in school, which complements my working and social experiences in the real world."
In closing, she wished to give her greatest thanks to her grandmother. "She is the most beautiful and kindest person in my whole life," she said. "I love her, as she always gives me unconditional love and supports me during difficult times. Her hugs or a talk with her could warm my heart and motivate me to achieve my dreams. I am very thankful for all her care and understanding. I love her forever!"