Introduction
The Master of Biotechnology and Bioinformatics provides students the opportunity to focus on subjects related to current and emerging technologies in human health, diagnostics, sustainability, food security, renewable energy and more. The Biotechnology major combined with Bioinformatics make use of the huge, rational data sets provided by omic sciences to offer significant opportunity for research, data-mining and innovation in health and Artificial Intelligence. Students will study in areas such as biotechnology and bioinformatics and develop skills that are highly regarded in the bioscience and big-data industries.
There are two pathways made available to this course. Students will undertake 8 core modules during their Year 1 of study before choosing between the Advanced Bioinformatics pathway or Research Project pathway during Year 2.
Course Highlights
Learn from Subject Experts
Learn from our experienced academic team, with PhDs from reputable universities in Singapore and abroad.
Purpose-Built Science Labs
Work with some of the industry's commonly used equipment across our three life science and chemistry labs, which are designed through more than 10 years of teaching life science.
Double Specialisations
Specialise in bioinformatics and biotechnology. Students have the option to undertake a research thesis, which includes 25-30 hours per week of experimental research with a researcher.
Progress to PhD studies
Graduates that underwent the research pathway may apply for a Doctor of Philosophy (PhD), subject to institutions' admission requirements.
Potential Career Opportunities
Graduates may choose to pursue a future (but not limited to) in these departments/industries:
Biopharmaceutical Scientist
Programme Consultants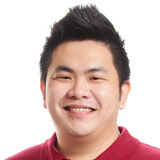 Ken Lai
0900 - 1830 (Monday - Friday) - City Campus