Introduction
With the ever-increasing threat of cyber-attacks and an industry shortage of qualified talents, the demand for people with cyber security skills is at an all-time high. Aspiring cyber security specialists need to be equipped with specific skills and professional qualifications to succeed at the forefront of this digital battlefield.
The Diploma in Network Defence and Forensic Countermeasures offers curriculum consisting of specialised cybersecurity modules developed by EC-Council paired with essential InfoComm Technology modules.
The programme allows students to have basics of Cyber Security, and to get specialisation in Network Defence and Digital Forensics.
Obtaining a score of 70% and above in select modules allows you to be awarded up to FOUR separate professional-recognised certifications awarded by EC-Council* in addition to the Diploma of Network Defence and Forensic Countermeasures.
*Students must achieve an overall mark of at least 50% in the module to satisfy PSB Academy Diploma requirements, and at least 70% to obtain the EC-Council Certification. For part-time mode, acquire up to 4 EC-Council Certifications (ECSS, CND, CEH, and CHFI). For full-time mode, acquire up to 2 EC-Council Certifications (ECSS and CND).
Course Highlights
Industry Certification
Earn both the optional EC-Council Certified Security Specialist and Certified Network Defender and an academic diploma.
Part-time students may earn additional EC-Council certifications in Certified Ethical Hacker and Computer Hacking Forensic Investigator.
Direct Entry To University
Stand to receive exemptions when you advance to selected degree courses with us.
Essential Cybersecurity Skills
Gain training in professional skills such as networks and various components of the OSI and TCIP/IP model, types of foot printing and electronic evidence collection.
Industry Collaboration

EC-Council is the world's largest cyber security technical certification body. They have trained and certified over 200,000 information security professionals globally. Their certification programs are recognised worldwide and have received endorsements from various government agencies including the US Federal Government.
PSB Academy is proud to be an EC-Council Academia Partner (EC|A) offering EC-Council Academia Programmes in Singapore. We are also proud to be awarded the EC-Council Academia Circle of Excellence Award 2021 in APAC for excellence in cybersecurity training and education.
Potential Career Opportunities
Graduates may choose to pursue a future (but not limited to) in these departments/industries:
Cyber Security Specialist
Digital Forensic Practitioner
Network Security Engineer
Programme Consultants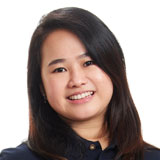 Lucy Jap
0900 - 1800 (Monday - Friday) - STEM Campus