PSB Academy
Certificate in Engineering Foundation (E-Learning)
Introduction
This programme is designed for individuals who want to update themselves with fundamental concepts in Engineering Physics and Mathematics to develop the technical problem-solving skills required within an engineering environment. It also enhances the English oral and written communication skills required for an effective working environment.
This e-learning programme is registered as a full-time programme with Committee for Private Education (CPE). Lessons and learning materials can be accessed at any time of the day at your convenience.
Overall, this Certificate allows the participant to possess a comprehensive knowledge base for a more effective delivery within an engineering work environment and a higher level of responsibility.
Course Highlights
6-Month Programme
Complete 6 modules such as Introduction to Internet of Things (IoT) and Design Thinking.
Progress To A Bachelor's Degree
Continue to our Diploma, and then a Degree in business with us. Subject to admissions approval.
100% Online
No examinations. Only online quizzes, tests, and assessments.
Programme Consultants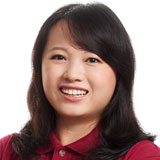 Joanne Ong
0900 - 1800 (Monday - Friday) - City Campus