The University Of Newcastle, Australia
Bachelor of Environmental and Occupational Health and Safety (Top-Up)
Introduction

The Bachelor of Environmental and Occupational Health and Safety programme is a unique degree combining environmental management and emerging EOHS issues effectively.
This unique degree course by the University of Newcastle exposes you to the essentials in the management & practice of environmental health and safety management. Graduates can assume professional roles in the management and practice of environmental health and safety management by applying knowledge acquired in this programme.
The programme is designed for students and working adults who demonstrate that they have already achieved the equivalent of the first year of study through previous tertiary education.
This degree is fully accredited by the Institution of Occupational Safety and Health (IOSH), the world's biggest professional health and safety organisation. This programme is also approved by the Ministry of Manpower (MOM) in its qualifying criteria as a requirement in applying to be a Workplace and Health Safety Officer (WSHO).
Professional Accreditation
This programme was developed in response to a demand for professionals in Singapore who can access both areas. The degree provides a sound theoretical base and skills necessary to enable graduate professionals to
Fully accredited by the Institution of Occupational Safety and Health (IOSH), the world's largest professional health and safety organisation.
Recognised by the Ministry of Manpower (MOM) in its qualifying criteria as a requirement in applying to be a Workplace Safety & Health Officer (WSHO)
Complimentary student IOSH membership for all new incoming students
Course Highlights
Asian Expert Perspectives
Taught by University of Newcastle approved lecturers, with doctorates from reputable universities in Singapore and abroad
Programme Consultants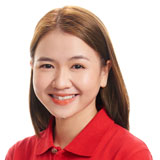 Vanessa Thao
0900 - 1830 (Monday - Friday) - City Campus