BACK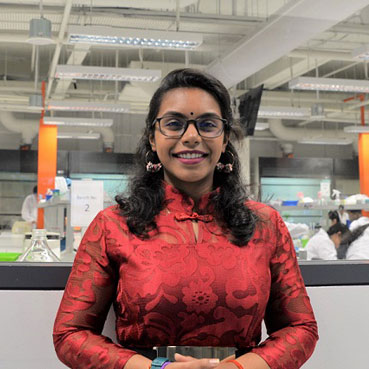 Vinoshini D/O Selvathurai
Class of 2021
Bachelor of Biomedical Science, La Trobe University
School of Life and Physical Sciences
It has always been my dream to pursue science as a career since primary school.
Pursuing higher education in the science field was a means for me to find a sustainable living when I enter the workforce. Upon completing the programme, I hoped to understand better how deeply rooted my passion for science was and be versatile in the job hunt playfield.
Through a social media advertisement, I came to know about PSB Academy. After comparing the life science courses between other institutions, I decided to enrol at PSB Academy as it was better recognised and had more hands-on learning. Even though the curriculum was fast-paced, it is possible to do well with good time management and prioritisation. I liked the tutorial system that allowed face-to-face interaction with lecturers, which helped flatten my learning curve significantly. The practical skills in biomedical science (MED3PRC) was a module that immensely helped me at work as it provided lots of hands-on skills that were applicable. A lecturer that inspired my learning at PSB Academy was Dr Martin Grunert. His lectures were always planned well and paced to suit students learning speed. He was also very willing to help students who'd like to learn a little extra during our break times. And I have also observed this with other lecturers such as Dr Alexis Chon and Dr Seah.
After graduating from La Trobe University, I worked as a medical technologist in a covid lab. I got to live my dream of working in a science field while giving back to my community. My day-to-day job is interesting as I am faced with new learning opportunities and challenges daily. The pressure, however, is real, especially when clusters grow. Fortunately, the team that I work with is supportive. This helped me handle the pressure of working in a Covid lab better.
In the near future, I hope to progress further with my company and take on a Master's degree.
---
Biomedical science alumna and recipient of the PSB Academy Merit Scholarship, Vinoshini, shares with us more about her scholarship and her dreams in life.
Why did you choose to pursue biomedical science?
My dream is to become an ophthalmologist* one day. Besides having an interest in this field, I would also like to help others and interact with patients.
How did you find out about the scholarship?
I found out about the scholarship online, when I was searching for ways to fund my studies. I didn't want to put a financial burden on my parents and the scholarship gave me an opportunity to pursue my passion for biomedical science.
Are you in any organisations or student clubs?
I'm in the Community Service Club and Student Council with PSB Academy. I'm also a facilitator and leadership board member of a sailing voluntary organisation. Before this, I've done relief teaching in Primary and Secondary Schools. It was a fruitful experience guiding the students and made me realise that I want to engage with people in the future.
*Medical doctor who specialises in eye and vision care.