BACK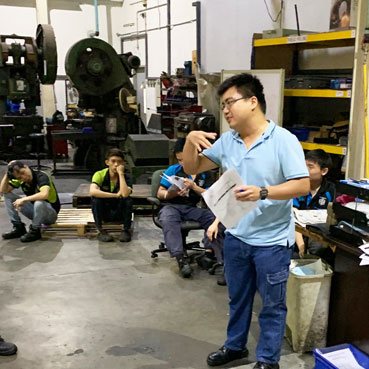 Zhiqin Cai
Class of 2021
Bachelor of Environmental and Occupational Health and Safety (Top-Up), The University Of Newcastle, Australia
School of Engineering and Technology
Tell us more about what you do at work and how you apply your past experience.
Reporting to the Safety and Quality Manager, I am the main person in charge of WSH and fire safety matters within my organisation.
The BENVOSH Degree is highly relevant to my current job role.
For instance, OHSE 3720 EOHS Law acquaints me with the legal knowledge that enables me perform my work role well, while modules such as ENVS 2710 Environmental Control Practices and ENVS 3610 Environmental Impact Assessment acquaint me with the knowledge to manage environmental aspects of our operations. Thus, I was put in charge of the collection of hazardous waste or my company, and the management of pest control.
As a manufacturing company with operations involving hazardous chemicals, modules such as OHSE 2630 Occupational Health and OHSE 2640 Hygiene and Toxicology I sensitise me on the impact of these chemicals on the health of our staff, especially as I compile the Material Safety Data Sheet of the chemicals in our operation. This prompted me to implement measures such as increased surveillance to ensure staff wears N95 masks at certain areas with works involving hazardous chemicals.
Knowledge from ENVS 2620 Bioscience for EOHS and OHSE 2630 also sensitise me on the impact of noise on our health, which prompts me to critically review our Hearing Conservation Programme, and to mandate and enforce the wearing of correct ear plugs with appropriate noise reduction rating for certain operations with high noises.
Meanwhile, OHSE 2740 EOHS Management equips me with the knowledge to motivate and seek the collaboration of people under my care, and this has enabled me to lead my organisation maintain our zero-incident rate from the 3rd month I joined the organisation.
I am granted exemption for modules such as OHSE 2610 OHS Practice, OHSE 2730 Occupational Safety and OHSE 3740 Risk Assessment and Management as I possess qualification under the WSH Framework by WDA, but I do see the relevance of these modules in my current work role.
Overall, I am thankful that the knowledge from the course has enabled me to appreciate the responsibility I am given due to my role, and have facilitated me to make informed decision. This has enabled me to lead my company attain a zero-incident rate for 10 months. We attained this milestone from the 3rd month I joined the organisation until now.
Why did you take up this course in the first place?
I entered the job market with a Bachelor of Science (Project and Facilities Management) Degree with the National University of Singapore, and a Master of Transport Management Degree with the University of Sydney.
I embarked on my first WSH training – WSQ Certificate in WSH during my first position as a Facilities, Safety and Security Coordinator in a logistics company as I see the importance of WSH in management of facilities and needs working knowledge on safety. I progressed along qualifications under the WSH Framework offered by WDA attaining the WSQ Advanced Certificate in WSH and the WSQ Specialist Diploma in WSH, as I joined a statutory board as an Executive Manager in the Estate Management Department.
Along the way, I gained an insight that if I possess qualification and knowledge beyond others, I can break free from the 8:30am to 6:00pm regular hours and embark on higher level job roles that requires niche skills and specialised knowledge. Qualifications by WDA are necessary to thrive in the workplace and gives me competitive advantage against staff not trained in WSH. However, I need an internationally recognised qualification in WSH, essential to go global, especially as I aspire to venture into WSH in our ASEAN neighbours. I also see the potential in roles as trainers for courses under the WSH Framework and as specialised consultants in WSH. An internationally recognised WSH degree seems to be the answer to my insight. I embarked on the Bachelor of Environmental and Occupational Health and Safety Degree in 2014, as then, it was a qualification recognised for registration as a WSH officer under the Ministry of Manpower, and also for the registration as an Environmental Control Officer upon completion of the ECO course by NEA.
Share your experience juggling part-time studies and a full-time job.
I take less modules per trimester compared to my peers, to fully divert my time to this course without compromising work. Thus, while the default period is 2 years, I stretch my candidature period to beyond 3 years.
Outside my work hours, I maximise my time to focus on the programme by eliminating distracting activities such as aimless watching of television. I also take leave to prepare for exam and complete assignment when necessary. To boost my motivation and gain confidence to complete this course, I embark on regular slow jogs around my neighbourhood. Each time I complete my jog, I reinforce the notion that if I can complete a certain distance I have planned, there are nothing in life I cannot accomplish.
What is one thing about your experience as a student in the programme?
Taking the programme gives me the nostalgia of my undergraduate experiences, especially as I collaborate with my course mates on assignments and as we get to know our results. My life experience has also taught me not to sweat the small stuff and focus on the big picture as we work on our group projects and to see course mates as collaborators and not competitors.
What would you advise others who are embarking on this journey?
I see continual upgrading as a means to make our work experience relevant, and to thrive in a world of changes. A qualification signifies that we have undergone the required learning and have attained the endorsement by the certification body on that training.