The health and safety of our students have and will always be PSB Academy's utmost priority. This is why education at PSB Academy has largely moved online, in response to the Covid-19 pandemic, so that students' learning will continue uninterrupted as we navigate Phase 2 and beyond.
What does this mean? How do our students continue learning effectively, and what will your learning experience be like? Read on to find out!
1) Students experience the same academic rigour and standards
Rest assured that the quality of PSB Academy's certificate courses, diploma and degree courses, and postgraduate courses remain the same for classes that are being conducted online. Our programmes are well-structured, with thoughtfully crafted syllabi detailing learning outcomes, course outlines and schedules, grading rubrics, assignment submission policies, and more.
Here's a tip if you decide to pursue a course with us: if a module's syllabus is available online, why not use it to prepare a revision plan for the upcoming weeks ahead?
You can do this is by marking down important events such as assignment due dates and exam days, if any, onto your calendar immediately. Thereafter, have a quick look at the intensity of the assigned readings and work out how much you'll need to cover each week. Don't forget to squeeze in some break time!
2) Classes can be accessed conveniently
Online learning is primarily delivered via Learning Management Systems (LMS). All course materials are uploaded onto these online educational platforms, enabling you to study wherever you prefer and even on the go with ease. All you'll need is a mobile device and a stable Internet connection.
Courses offered by PSB Academy and our overseas university partner, Coventry University, for example, make use of the Blackboard LMS. Students can easily access this platform via desktop or mobile (through the Blackboard app).
Classes are made fun and engaging through Blackboard Collaborate, which features a shared interactive whiteboard that you can give presentations and share content on, chat boards to message fellow classmates' thoughts and reflections, and even a 'Raise Hand' function if you have a burning question to pose! If you prefer to clarify your doubts with your lecturer individually, you can choose to message them separately too.
Your lecturer could also get you to answer polls, and split the class up to different 'rooms' for group work and breakout activities. Who says a virtual classroom can't be just as fun and engaging?
All online classes will be recorded, allowing you to revisit them anytime you like. The recordings will come in handy during examination revision or virtual study group sessions with your course mates!
Disclaimer: This video was filmed before the Circuit Breaker.
3) Blended learning is offered amid Covid-19
As we increase our on-campus activities progressively in a safe and calibrated manner, we have resumed smaller classes, project work discussions, academic consultations and other activities in stages across both campuses. However, classes with larger student numbers will remain online until further notice, and on-campus services (other than scheduled classes) will require prior appointment booking.
We will continue with this blended learning approach (mix of online learning and face-to-face learning), while we ensure the safe re-opening of our campuses. For more information and the latest updates, please visit our Covid-19 Advisory page.
4) Other useful information is available online too!
To keep things lively and the PSB Academy spirit going strong, our Student Affairs team has been hard at work! You'll be able to attend live career talk webinars, learn career tips via our Career Cookies series, pick up nifty tips and tricks (such as online studying tips) through our Keep it Lit series, or discover the stories of fellow students. Students can also gain insights on their personal development such as through the live sharing on Stephen R. Covey's "7 Habits of Highly Effective People" series!
Check out our Facebook page for these awesome content and more. We will continue to come up with more content, so do keep your eyes peeled.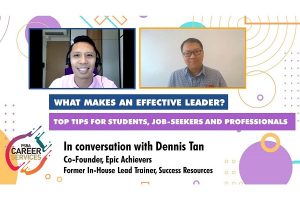 While online learning has become the new normal during these uncertain times, we plan to resume more face-to-face classes and activities as safety regulations continue to ease up. If you'd like to study with us, here's some important information: individuals who enrol for upcoming intakes may be eligible for course fee waivers or rebates through our Future Together (Singapore-based students) and Learning Never Stops (international students) Initiatives*.
If you're worried about the technical difficulties that could arise in online learning, don't be. You should be able to troubleshoot them on your own with a little help from the Internet, and students can seek assistance from their respective school should any problems persist. Here's an unexpected plus: you'll become more tech-savvy in the process!
We'll be happy to address any other concerns regarding online learning that haven't been answered here. Simply send in your questions to get started, and our course consultants will get back to you as soon as possible.
Stay safe, and we earnestly look forward to the day we can greet all students in-person again!
*Selected courses only; terms and conditions apply.