Employer Benefits
Why Recruit Our Graduates

One of Singapore's first productivity champions

, PSB Academy today focuses on what really matters: performance in the New Economy. In 2021, the Academy was conferred our third National Business Award in Education by Singapore Business Review with the support of our partners in academia and industry. Our

spaces

and practice-based pedagogy strongly steeped in real-world experiences translate into a teaching, learning and networking environment that enable our

diverse community of students

to be 

Future Makers

— active innovators and contributors to society. Our students learn beyond the classroom — with trips abroad, industry talks and even alumni reunions across the region held each year, an education with PSB Academy broadens our graduates' perspectives. On top of our well-established teaching pedagogies developed in consultation with our leading university partners, we aim to stay relevant by keeping our network of industry partners in close consultation. That is why we have our

Industry Advisory Panels

, with veteran professionals who are able to help keep our programmes current, so students are trained in skills that are in demand. We welcome industry associations, businesses and recruitment agencies to collaborate with us through job placements on our Career Portal, company visits, recruitment talks, career fairs and industry networking events.

Academic Collaborations

By working with employers and professional associations to understand their needs, we believe we can help develop businesses' competitive edge and support our graduates' career growth. Senior executives, entrepreneurs and other captains of industry are welcome to consult with us through our Industry Advisory Panels and deliver guest lectures and talks to our student body. Employers may also help our graduating students gain insights into their industries, work cultures and required skillsets through internships and short-term work-based projects, while leveraging on the skills and knowledge they have developed through their diploma or degree programme. Keen to discuss or deepen your collaboration with us?

Career Portal

Our Career Portal, in collaboration with Kinobi, empowers employers with easy mobile access to our 13,000 strong student population from over 50 nationalities. Interested in connecting with this generation's digital natives? Register for a complimentary employer account today.

Graduate Verification

Employers may verify the status of graduates awarded certificates and diplomas by PSB Academy through our complimentary online services.

Our Industry Partners

Testimonials

PSB Academy has given us access to some of its mechanical engineering students, a fantastic and energetic bunch whom I hope to get a chance to work with in the future.

Ciaran Mullally
Regional Manager (South East Asia)
KPC International


PSB Academy really has good candidates who are very open-minded in terms of what they want to do and the jobs they're willing to explore. Opening up to them about our opportunities was inspiring for us.

Shirlyn Ting
Senior Marketing Executive
GTI Media Singapore

PSB Academy's students are very enthusiastic and we always look forward to participating at your career fairs.

Raymond Yew
Recruiter
Benjamin Tan Organisation, AXA Singapore

We are proud to say that PSB Academy has a lot of talented students and this has helped us in our recruitment.

Matthias Loh
Human Resources Officer
Millennium Hotels and Resorts
University Partnerships
We are an international network of colleges that work with leading universities and quality education partners to offer our students transnational education opportunities. We serve 12,000 students from over 50 nationalities – many of whom can now choose to study a diploma in their hometown, progress to an undergraduate degree in Singapore, tackle courses offered by internationally-recognised certification providers, and have the option of studying in our university partners' home campuses in Australia, New Zealand and the UK.
Universities may verify the status of graduates awarded certificates and diplomas by PSB Academy through our complimentary online services.
Student Recruitment Application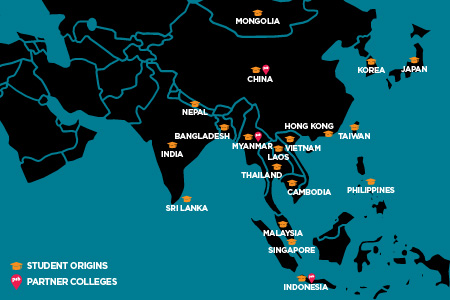 Interested in being an official recruitment agent for PSB Academy?