Introduction

Computer science is the study of the theory, experimentation, and engineering used in the design and use of computers. The rise in digital technology has increased the demand for highly skilled professionals with a thorough understanding of key computer science technologies, combined with the practical skills to solve software issues.
This computing science degree is designed to equip modern graduates to work in this exciting and constantly changing field. Throughout the programme, students are taught academic, professional and personal skills required to develop within the ever-evolving computing and infocomm technology industry.
Course Highlights
100% Coursework
Benefit from hands-on learning with an Honours degree that is entirely assignment-based.
Purpose-built STEM Facilities
Immerse yourself in a STEM-focused environment equipped with multiple computer labs running MATLAB and other specialised software.
Industry Immersion
Enjoy opportunities for professional events, seminars and workshops when you join as a student member of the Singapore Computer Society (SCS) and The Institution of Engineering and Technology (IET).
Learn from Industry Experts
Gain professional insights with our experienced lecturers
Direct Entry to Academic Year 2
Stand to enjoy module exemptions and possible completion of a UK Honours degree in 16 months, with a relevant polytechnic or private diploma qualification.
Essential Computing Science skills
Acquire professional skills in IoT, Big Data, Human-Computer Interaction (HCI) and Web Development, and more.
Potential Career Opportunities
Graduates may choose to pursue a future (but not limited to) in these departments/industries:
Software Engineer/ Programmer/ Developer/ Consultant
Programme Consultants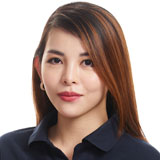 Ivone Sutoyo
0900 - 1800 (Monday - Friday) - City Campus