By Pek Yi Tsing, Valedictorian (Class of 2019)
Bachelor of Communication, The University of Newcastle, Australia
In this season of giving, let me share some invaluable moments that were only made possible because of The University of Newcastle, Australia (UON). From being allowed to meet founders of companies to making lifelong friends who supported me every step of the way, even after graduation.
This year, one year after our graduation, I will share on the priceless moments we were blessed with during our university years.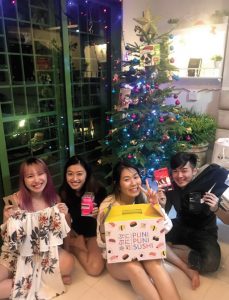 Our inaugural Christmas celebration in 2017, our first year of university.
1. Meeting Founders of Start-ups
While some pay hundreds of dollars to attend workshops hosted by founders of start-ups, we had the opportunity to do so during our Creative Industries Entrepreneurship classes. Mr Neville McKenzie, lecturer for that module, invited industry partners to share their entrepreneurship journey with us. I have always been a firm believer in learning beyond the classroom, and Mr Neville's teaching method brought his lessons to life. Some of the entrepreneurs we met were:
Ginny Eckblad, co-founder of GorillaSpace
Graham Brown, founder and podcast host of Asia Tech Podcast
Chris J Reed, CEO of Black Marketing
Not only did we have the opportunity to listen to their stories, but the entrepreneurs also took interest in ours by getting us to share our plans after graduation and giving us words of advice.
2. Gearing Up For Graduation
While some graduating students might be researching and cramming for their final thesis and exams, our final-year modules were geared towards preparing us adequately for the working world.
For example, in our Advanced Public Relations module, 35% of the module grade depended on a portfolio submission consisting of our past works and creating a LinkedIn profile. This urged us to think deeply about what we wish to present to future employees, even before graduation.
When it was time to start applying for jobs, naturally, we felt well-prepared with our resume and portfolio despite facing fierce competition during the graduation season.
3. Overcome Fears
I overcame my stage fright to give a valedictorian speech during our graduation ceremony. I could not have done it without the encouragement of my friends and lecturers. The Public Relations Writing module I took under the Bachelor of Communication course has always played a big role. I'm pretty sure my speech would have been a cookie-cutter one if not for the lessons I learnt in that module about writing a speech that keeps audiences on their toes.
This year, one year after our graduation, I will share on the priceless moments we were blessed with during our university years.
4. Lifelong Friends and Mentors
Finally, I always had seniors telling me that university is a place to form genuine friendships and network — now I can see why.
Your classmates and friends in the university will be the ones that stick with you through thick and thin and, very likely, share the same interests as you.
One year after graduation, even when our group chat is no longer bustling with activities as it used to when we were busy with assignments, my university friends and I keep each other up to date with what is happening in our lives. We often celebrate the little victories at work and reminisce our university campus experience like it just happened yesterday.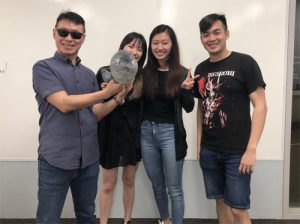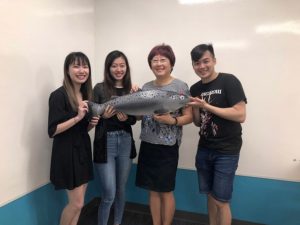 What's a fish doing in the classroom? Guess we'll never find out.
I am still in touch with my university lecturers who are now my mentors. We make time to catch up every now and then to talk about the media industry, my growth as an individual, and the stories on their long-running career. Although I'm no longer their student, they are always ever willing to give me advice and guidance when I need help.
To me, these are priceless presents I gained while studying the Bachelor of Communication with UON.
Pssst, PSB Academy will be having a Virtual Open House on 16 January 2021, Saturday, from 11 am to 5 pm. Find out more here!