The University Of Newcastle, Australia
Bachelor of Communication
Introduction
The University of Newcastle, Australia currently offers in Singapore a Bachelor of Communication degree that students can complete full-time with a Double Major in Public Relations and in News Media. 
Students will gain a solid understanding of the theory and practice of communication in a global environment which is both complex and rapidly changing. They will learn to work creatively and analytically in the communication and cultural industries, and for further study and research in the discipline.
Students will also automatically become student members of the UONS Student Chapter of the Institute of Public Relations of Singapore (IPRS) until they complete their studies. Student members get to experience industry visits and IPRS hosted events on an annual basis.
About the Public Relations Major
The Public Relations Major addresses key needs and changing demands in the PR industry and broader employment, including social and multi-media content creation and the ability to critically analyse (big) data, while continuing to utilise traditional skills to showcase their talent in strategic planning as well as written and oral communication skills.
The Public Relations Major provides you with the skills required in the profession and practice of public relations. This industry assists organisations in establishing and maintaining communication and cooperation with stakeholder groups. Your core courses in public relations will focus your study around strategy, communication, and campaign execution.
The Public Relations Major is suitable for Communication students who have:
an interest in learning how to manage relationships between brands and external stakeholders.
goals to pursue a career in brand communication, promotion and advertising, among other fields.
a commitment to maintaining successful business relationships and creating a 'personal' brand.
About the News Media Major
The world-wide-web has had a major impact on traditional forms of media distribution, and this has affected many communication industries, including journalism. But there remains a global need for stories to be told in a variety of formats by journalists, skilled in the craft of writing, analysing and reporting. The News Media Major provides you with the opportunity to develop practical skills and knowledge that is relevant to the contemporary journalism landscape.
The News Media Major enables you to learn to plan, develop, write, record and edit stories across a variety of media platforms. This major prepares you to work in journalism whether you want to work for news organisations, new online media outlets, as freelancers, in other media businesses, or as embedded creatives in other industries. You will learn to produce media for video, audio, mobile, print and online platforms.
You will undertake embedded, authentic, experiential assessments and will leave the program with a specialised portfolio that showcases your journalistic skills.
Course Highlights
IPRS Membership
Enjoy student membership with Institute of Public Relations of Singapore (IPRS). Benefits include access to online resources, industry visits and IPRS-hosted events.
Advanced Standing
Stand to receive module exemptions with a relevant polytechnic diploma qualification subject to University's approval.
Open to A-Level graduates
Australian and Asian Expert Perspectives
Taught by University faculty and Singapore-based lecturers, with a good mix of doctorates from reputable universities and field professionals.
PRISM Awards 2019
Outstanding PR Project – student category
At this year's edition of the PRISM Awards organised by the Institute of Public Relations of Singapore (IPRS), the following final year Bachelor of Communication students (Roziana Cindy, Karisma Zulkifli, Maria Alejandra Marin, Ni Nyoman Nindya Karinnya) won an award for "Outstanding PR Project – student category" for a Public Relations project that they completed on behalf of a not-for-profit organization (a home for the elderly run by a Muslim group).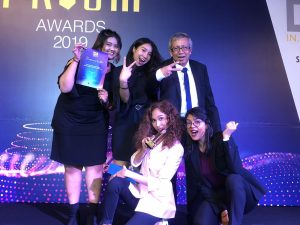 Outstanding PR Student
Chin Kai Jie Lydia, a Bachelor of Communication graduate, won an award for "Outstanding PR Student".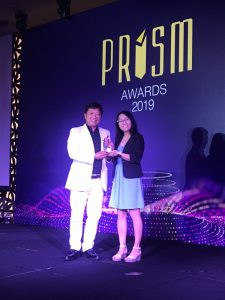 Potential Career Opportunities
Graduates may choose to pursue a future (but not limited to) in these departments/industries:
Advertising, Marketing, Public Relations & Corporate Communications
Communication and Media Education
Digital Film, Sound & Video Production
Media/Audience Research and Analysis
Online, Print and Broadcast Journalism
Screenwriting, Copywriting and Publications Services
User Interface (UI) & User Experience (UX) Design
Programme Consultants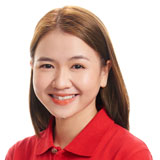 Vanessa Thao
0900 - 1930 (Monday - Friday) - City Campus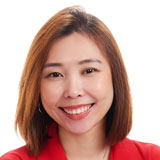 Tan Pei Ni
0900 - 1930 (Monday - Friday) - City Campus