By Harini Srinivasan, Bachelor of Biomedical Science
 Though I didn't perform well enough for my A-Level exams, but I am thankful for an alternative pathway after A-Level that gave me the same opportunity as other students to obtain a life science degree. I thought I'd share my experience with you.
Receiving my A-Level Results
I remembered sitting in the school hall crying while looking at my A-Level certificate as I did not score any As, and my Economics subject had an E grade. My total points were average and below the entry requirement for the Science courses in all of the local universities.
Unsurprisingly, I was rejected for entry into the life science degree courses at the local universities. I felt directionless because my original plan was to study Biological Sciences or Chemistry at a local university. Conditioned to believe that only a local degree would offer a good pathway to a stable career after graduation, I had not put much thought into looking for alternative pathways.
Private Degree Pathway
While I was upset over my situation, my father stumbled upon an advertisement by PSB Academy and found out that the academy partners with La Trobe University (LTU), a Top 15 University in Australia for Life Sciences & Medicines (QS World University Rankings by Subject 2022), to offer a degree in Biomedical Science. Since it was a course that I was interested in, I thought this could be a good alternative pathway for me. After considering various factors, such as the credibility of the school, the cost to pursue my degree, and the potential travelling distance away from my family, I enrolled for the life science degree.
"My time at PSB Academy was very fulfilling. Yes, there wasn't a facilitated exchange programme or the option to choose elective modules, but it gave me the time to focus on the core modules that were important, allowing me to "fast track" my degree."
Being able to graduate faster also gave me the opportunity to take a gap year to reset myself, which allowed me to find an internship after graduation, and also a job. Overall, it taught me to be independent and not miss any opportunities, which helped me a lot in my work too.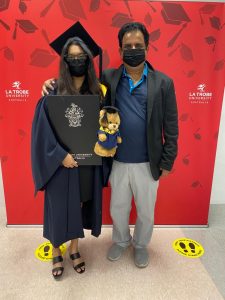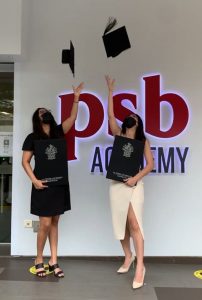 Overcoming the Private Degree Stigmas
I was aware of some of the stigmas against private educational institutions. Many of my schoolmates from secondary school and junior college had mentioned that private education institutions were "easier to get into and less credible than local universities". Another one I have heard was that local universities offered better job prospects.
"Rather than an institution's reputation, I think a person's career path is largely dependent on their work ethics, determination to find the right jobs, preparation for interviews, and trusting luck in the window of opportunity."
The majority of the jobs that I interviewed for, looked mainly at the laboratory skills, scientific knowledge and attitude. The name of the educational institution on my certificate was secondary.
This is the same for my coursemates who also found good career opportunities and are in the same field as those who graduated from local universities. Some went on to pursue higher education, such as Veterinary Science, and one even entered medical school.
Life Science Student to Medical Laboratory Officer
Currently working as a Medical Laboratory Officer in a diagnostics laboratory in A*STAR, I focus on the diagnostic testing of Covid-19. Previously in the same role, I have done research work for diagnostic testing of Covid-19 and validation tests for the new viral Covid-19 strains. The life science degree at LTU exposed me to relevant experience in the scientific field, where I acquired the skills and techniques necessary for my current role.
Presently, I am also taking my Master's in Life Sciences, with a specialisation in Environmental Biology, in the National Institute of Education (NIE) under NTU. I intend to take my Graduate Record Examinations (GRE) next year, as I want to pursue my PhD in Biomedical Science.
Life Science Degree at PSB Academy
PSB Academy in partnership with La Trobe University offers several life science degree programmes for A-level graduates. Enquire with us today.